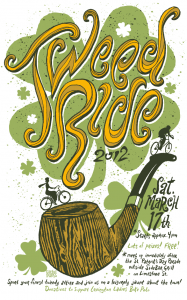 March 17, 4pm
This year's Tweed Ride benefits Ladies ArmyIV!
Meet immediately after the St. Patrick's Day Parade outside of SideBar Grill on Limestone (around 4pm).
Prizes for Most Dapper Chap, Most Dandy Lass, Most Snappy Steed, and Best Moustachio! The ride includes several stops at which you can enjoy an old timey photo booth, homebrew, and other fun activities. An afterparty will take place at Sidecar (next to Al's) with Green Beer and Karaoke!
If you want to ride in the parade, you must be at Main and Midland before 2:15pm. There is waiver you must sign in order to participate.