April 27-29
Lexington, KY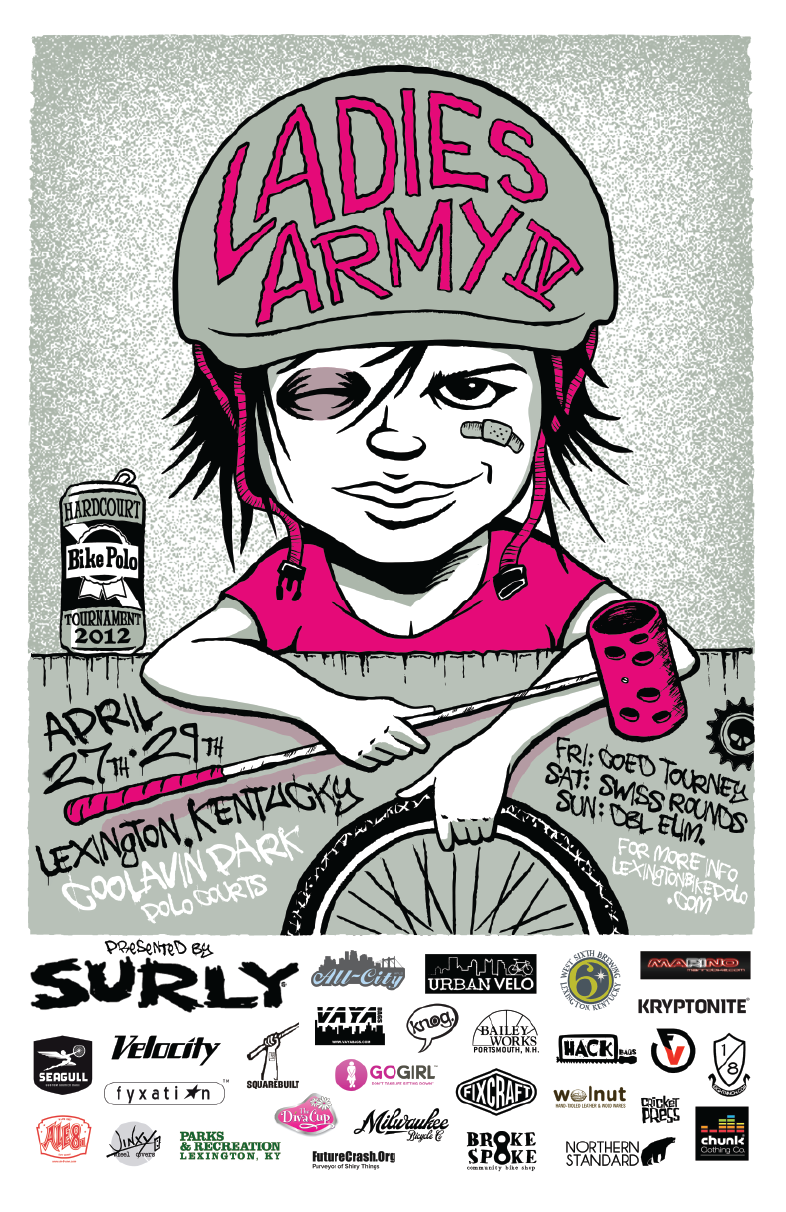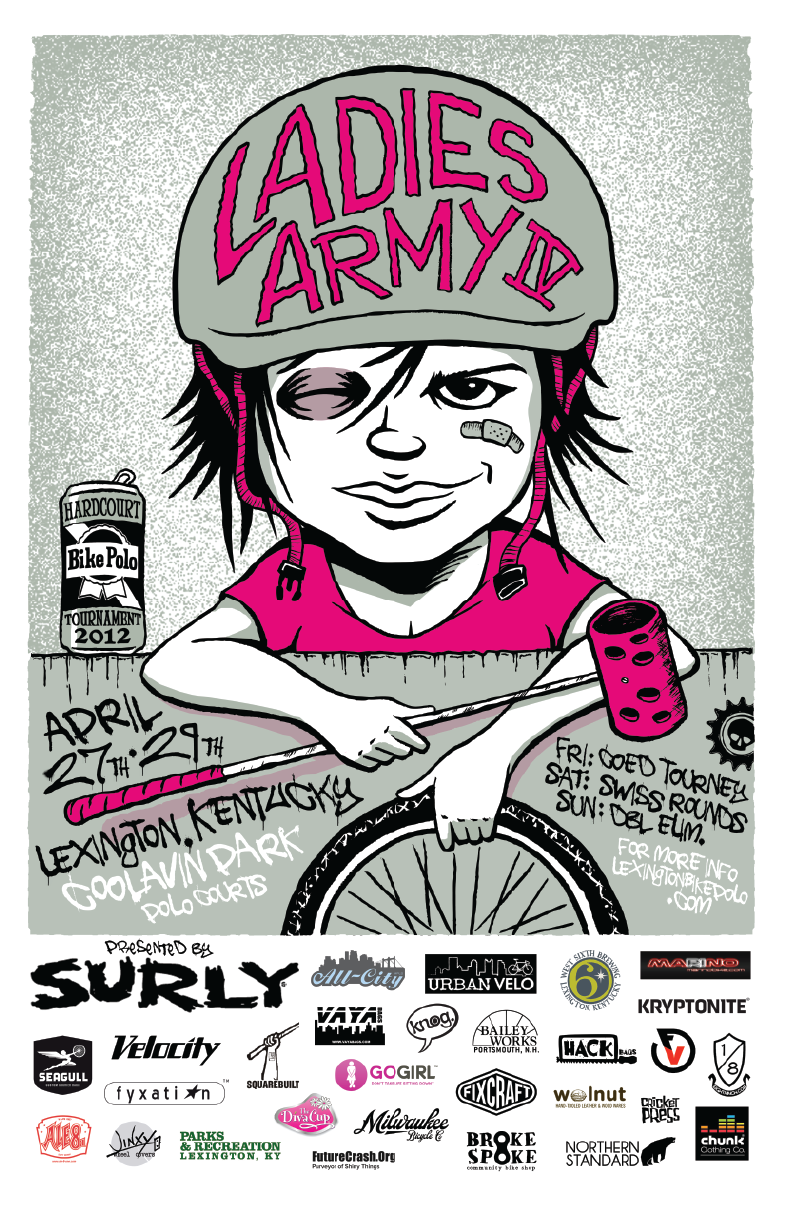 Ladies Army IV and coed tournament will take place on April 27-29 at the Lexington Bike Polo Courts located at the corner of 6th and Jefferson in Coolavin Park! This tournament is predicted to attract around 40 all-female teams from cities in North America, Europe, and Asia, as well as many of their male counterparts to partake in the coed portion play of the weekend.
The weekend will kick off with a coed tournament on Friday, April 27th in which both men and women will compete.  The official Ladies Army tournament begins the following day with Swiss rounds on Saturday, April 28th, and Double Elimination games played on Sunday, April 29th. Prizes will be awarded to 1st, 2nd, and 3rd winning teams, as well as 2012′s Most Valuable Female Player. For sponsorship information, click here.
A bit of history
Ladies Army is an annual all-female bike polo tournament started in 2009 by the women of East Vancouver Bike Polo in an effort to highlight female bike polo talent. Every year, Ladies Army is an anticipated event, drawing female polo players from around the world to battle it out on a central court and to showcase new talent. Previous Ladies Army tournaments were hosted by New York City Bike Polo in 2010 and Austin Texas Polo Social Club in 2011.
LADIES ARMY REGISTERED TEAMS (Please email tiffany.morrowATgmail.com for any changes)
Whorse Polo Lex/Lex/Athens Tiffany Morrow Jessi Conners Erica Compton
Guns Girls Gold Austin/EastVan/Vic Shannon Frey Maureen Grady Naomi Adams
Cunning Stunts MKE/TOR/JAX Birdie Watts Maijia Cherri
The Centurions SF/POR/Warsaw Jacki Rust Kayla Traismen Agata Emre
Watch Yer Grill Mobile ATX/ MIN Tina Medley Meg Lee Elise Rasmussen
Broad Babelight Charlottesville/Philly/Toronto Ali Cheff Sam Luisi Patti Young
She-Raw Chicago/Asheville Kayla Story Courtney Johnson TBD
Pre Sex Poop Como Colleen Blake Katherine Aimee
Tornadoes London Erin Giuliani Jo Shippey Nik Hamilton
Blind Assassins Cascadia Cecily Upton Suzi Teresa Feldman
Bear Hugs Ott/Tor/Van Emily Heffring Elena Gena Perala
Vanilla Quafers of Mutt Town Charleston/NewOrleans/Toronto Shelley Smith Cat Essiambre Lindsay LaGrange
Skanky Brewsters Lucy Yao Ariel Weaver Sara Torrie
Screamin' Mimis CHI/RVA/PGH Kelly Strosser Kaycie Tator Megan Stanton
Easy, Tiger Bloomington Tori Miner Andrea Kalasountas Jordan Fredericks
Mean Jail Is On East Van Lisa Moffatt Naomi Manin'tVeld Jenn Brooks
Hot Links Seattle Kiersten Kelsey Letcher Mckenzie Hart
Baby Birds LA/Cinci Jinxy Krista Carlson Quinn Rockov
Immaculate Convictions Van/SEA Valley Leslie Kelly
Nietzsche's Peaches ATX/PHL/SEA Chandel Bodner Jill Sara
Multiple Scorgasms ATX/MOB Jasmine Jones Elise Fornell Britney Hill
Bustice League Bloomington Jasmine Stevens Megan Burger
Watanya Cicilla Como/PGH/Cville Annie Dunckel Sarah Krahel Anne Linders
Shotgun Sisters Frankfurt/London Johanna Anna Allison
Bloody Marys MIN Kat McCarthy Greta Alquist Aleia
Sirens London Zoe Bierman Helen Harrison Julia Murphy-Buske
Dark Pony East Van/MKE Oleha Riden Jackie Kanyuk Cait Haigness
Stainless Steel Falopian Tubes Eastern Ontario Kirsten White Kiki Knox
San-Go Tokyo Maki Hojo Atsuko Onaga Nona
Kombucha Mothers Chitown/Cville Megan Mazzei Britt Willey Jamelyn
Mortal Wombat LEX Christina Buckner Katie Jo Doerfler Corbin Little
Sunstate Bombshell JAX KCJ Szwedzinski Emily TBD
COED TOURNY REGISTERED TEAMS

Yeah Bubba Lex/Atl Tiffany Morrow Chris H. Eric M.
Bangers and Mash London Max Allison Warwood Drew Kinney
Grammar Rodeo Clowns VAN/CHI Lisa Moffatt George Wall Brian Bolles
15 in Blackjack SEA/BOS Suzy Bichl Cody Riggs Addison Minott
One Eyed Willeys CHI/EVAN Shannon Frey Ben Schultz Britt Schultz
Prom Date CHI Megan Mazzei Chris Williams Tucker Schwinn
Nick and the Naomis VIC Naomi Man in'tVeld Nick Melchin Naomi Adams
Youngbloods LEX/BEL Katie Jo Doerfler Josh Gabe Eli Vantreese
Innie & the Outties LOU/LA Davis Murphy Amanda Wainscott Jimmy Flaherty
Tornadoes London Erin Giuliani Nik Hamilton Jo Shippey
Militia Ethridge CHA/NYC/PHL Shelley Smith Sean McCormack Tucker Waugh
Galactic Terror AA/CIN/BLM Quinn Adam Say Zach Woodward
The Holy Trinity TOR/PIT Jonathan Lomax Chandel Nick Iwanyshyn
Works Every Time COMO/ATX Colleen Blake Tim Donahoe Miguel Reyes
Spanxballs CHO/NYC/TOR Ali Cheff Patti Youn Adam Dirks
Gulf Coast Slayers MOB/NO Jacques Chouinard Lindsay LaGrange David Trosclair
Medic's Babes SEA/LON Julia Bakenger Kiersten George Medic Mike
Shotgun Siblings LON/FKF/MUN John Hayes Johanna Ana
No Bagels GR/PGH/CHR Alex Angus Annie Dunckel Gregg Brunner
Winneapolis MIN Nick Dellwo Meg Lee Aren
Gentlemen Prefer Blondes ASH/COM/CHI TBD Rob Glatfelder TBD
The Commonwealth RICH Charles Sprinkle Chris Bainesworth Kaycie Tater
TBD SEA/NYC Dustin Riggs McKenzie Hart Chris Roberts
Control Freaks SEA/PIT Leon Ettelson Jillian Nintze Greg Russo
Vengabus COU/CLE/CHI Christian Losciale Bob Knauer Kelly Strosser
We Met on Craigslist PIT/CVILLE/CVILLE Nico Paris Elizabeth Tristan Benedict-Hall
Man O War 3 AUS/SF Elise Fornell Israel Machine
Boiled in Coke MKE/JAX/RVA Birdie Watts Cherri Czajkowski Nick Vaughan
Fresh Out the Kitchen LOU/ATX Matt Bailey Jasmine Mike Mc
Welch Family MOB Britney Hill Justin Welch Samantha Luisi
But, Party! BLM/CIN Travis Davies Jasmine Bechlem Chris Evans
Potty Posse SEA Drew Valley Seabass
Critter Bonus MOB/ATX Tina Medley Elise Rasmussen Kevin Greene
Space Balls LA/SAC/PGH Krista Brad Quartuccio Joe Ballance
Foolish Suckers NYC/CHI Nate Mumford Greg Valentine Oleha
Pastor of Muppets LEX James Gonyer Christina Buckner Andy Stith
The Hotties LEX/SEA Chris Simpson Julian Agata
Bier and Magic LON Helen Harrison Nic Maglio Zoe Bierman
Deth Blossom PHL Sara Wojcik Cris GT Rob Biddle
Cunt Punchers CIN Andrew Lane Alan Dykstra Ryan Paws
JIIR 2 TOR/OTT/Mich Kirsten White Justin Daining Kiki Knox
Bitches get Stitches ATX/STL Ben Simon Jake Wheeler Mo Grady
Down to Polo LEX/COMO Nick McClean Jessi Conners Charlie Hill
Pre-Sango Tokyo/Lex Maki Zach Atsuko
Follow my Twatter Lucy Yao Mike Tacket Ian Bulling
Superchums RVA/ATH JT Ben Zoller Erica Compton
Mombutt TM PITTS Sarah Elizabeth Jon Bobel Lou Erste
Why Why Zed TOR Lewis Maija Kevin
Damn Girl OTT/TOR/VAN Emily Heffring Elena Gena Perala